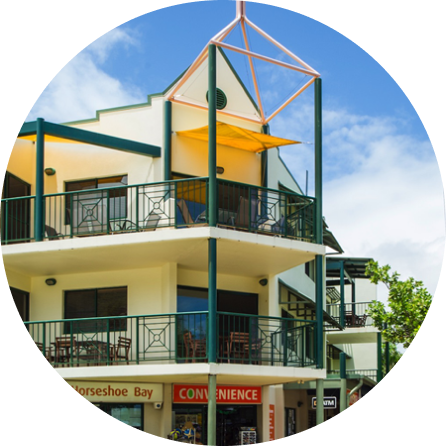 WELCOME TO YOUR
Accommodation On Magnetic Island
Located right on the beach in Horseshoe Bay on Magnetic Island. The resort has six fabulous apartments available, ranging in size from 1, 2 or 3 bedrooms, and they all have balconies overlooking the ocean.
Discover Our
Apartments On Magnetic Island
Why Choose Us
Top Reasons To Stay
Our stunning beachfront location on the biggest bay on the island, with a fabulous relaxing pool, large lawn area with undercover BBQ facilities. Other features include onsite parking and lift access to all floors, plus a seafood restaurant and convenience store located on the ground floor.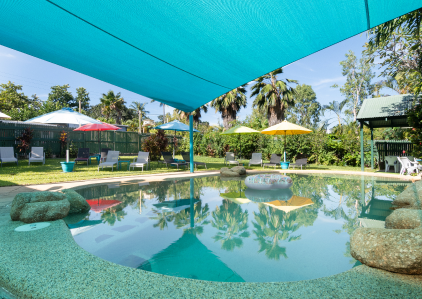 Why Choose Us
What Our Guests Are Saying
Excellent position. Clean, spacious, comfortable. Friendly helpful management. We were delighted with this accommodation. It had everything we needed including a lovely outlook. Very spacious three bedroom corner apartment. Lovely balcony with views over Horseshoe Bay.It was right in the middle of the action with the small general store in the building. Also a restaurant who happily provided a delicious take away meal. The kitchen had everything we needed and there's a separate laundry. The manager's couldn't have been more friendly and nice. We found we really needed a car to get around the island and the hire car was expensive but worth it. There's lots to do on Magnetic. Lovely walks, beaches, fabulous snorkelling…even some quite good shopping. This apartment would be good for families with small children. There's a park and playground opposite and a safe beach. A good pool for small children in a fenced garden area. Lots of koalas to be seen.
Beachfront and immaculately kept. We stayed here for 4 days in June 2019. Had a 2 bedroom, 2 bathroom apartment on the top floor facing the ocean. Perfect location and magnificent views. Melita is obviously keen on ensuring her guests have a good time on Maggie and is knowledgeable and willing to share. The apartment was modern and well equipped and scrupulously clean. Aircon in all rooms was well used and the apartments are in a perfect location to experience everything Horseshoe Bay has to offer right on your doorstep….beach, activities, restaurants and cafes and bus stops right on your doorstep. Good quality wifi was also a bonus.
Great location with wonderful hosts. Fabulous location, the accommodation was spotless clean, fabulous hosts who gave great recommendations and were so helpful, amazing for families, highly recommend. It's overlooking the beach and right across the road from the park. We arrived on market day with was an added bonus.
# Magnetic Sunsets Resort